You may have heard of laminate flooring when looking for the ideal kind of flooring to match your space. Because of their attractive appearance, the laminate floor has captured thousands of consumers' attention. According to research, around 953 million square feet of laminate flooring were sold in the United States in 2020.

Enhancing your home or office with a laminate floor is a fairly smart option. It will help you change the entire appearance by providing durability and a wide choice of style alternatives at budget-friendly costs.

However, sometimes choosing the right flooring can be challenging due to so many options available in the market. When purchasing laminate flooring, a range of finishes needs to be considered, such as the type, thickness, and installation method.

This guide will help you to choose laminate flooring that's right for your home or workplace.


---
What is Laminate Flooring
Laminate flooring is a multi-layer material comprised of the wood fiber. It provides the most accurate imitation of natural wood. In addition, laminate flooring is made of four primary layers that are compressed together in a single step at high pressure and temperature. The laminate planks resemble genuine hardwood but are far more economical and moisture-resistant.



---
What is Laminate Flooring Made Of?
Although laminate flooring shares a similar overall architecture, they contain a variety of material layers. Typically, there are 4 or 5 layers overall.

Laminate Flooring Layers
The wear layer is the topmost layer that is constructed from a strong substance like melamine resin or plastic. This layer is durable enough to sustain regular use since it is what you will walk on. With higher quality laminate floors, this layer may be made of aluminum oxide making it one of the most durable flooring options available.
Underneath the wear layer is a beautiful decorative layer with a printed image layer on top, allowing for a wide range of designs in lovely colors and patterns. There are various levels of qualities in the decorative layer, some may just mimic the visuals of wood, while others may be embossed to also mimic the feel of wood.
Next comes the high-density fiberboard, which contains more than 80% wood and is used as the core board to give great structural strength and high resistance. Laminated flooring is a fantastic option for moist locations because its core layer works as a moisture barrier.
The backing is a bottommost balancing layer that serves as a foundation. It provides strength and stability to keep the board straight. This layer is responsible for protecting both the subflooring and the laminate itself. Moreover, it is highly moisture-resistant and water-resistant.

---
Types of Laminate Flooring
You can find numerous varieties of laminate flooring in the market. Here are the three most common types of laminate floors.
Wood-plank
The wood-plank design of laminate flooring is the most popular. The color and design options mimic the look of genuine hardwood flooring. Laminate wood-plank flooring is sturdy and thick, making it an excellent choice for homes, offices or businesses.
Tile Form
Laminate flooring also comes in tile form. For homeowners who prefer the idea of genuine ceramic or stone tiles but want a warmer, softer, and more comfortable floor, this sort of flooring is ideal.
---
What is the Difference Between Laminate and Vinyl Flooring?
Vinyl Flooring is made out of synthetic materials replicate the looks of wood planks or stone tiles. In addition, it can be practically installed anywhere in your home because of its waterproof nature. However, the best options would be a laundry room, kitchen, or basement. Laminate floors are made of primarily natural materials, a paper decorative layer and fiberboard bottom layers, all made from wood. The use of natural materials also gives laminate a warmer feel than vinyl.

There are many similarities between vinyl flooring and laminate floorings, such as affordability, ease of installation, durability, and beautiful appearance. Moreover, at first glance, both types of flooring seem similar.

Each of these floorings is equally good in every category. Vinyl flooring is easy to clean and performs well in moist environments. In contrast, laminate flooring offers many options for aesthetics and resale value.

Key Differences: Laminate vs Vinyl
­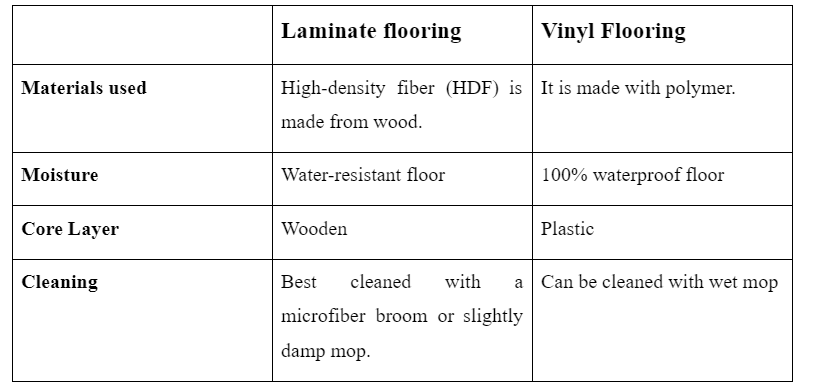 ---
­


Laminate flooring: Strengths
Pocket-friendly: Laminate flooring, which perfectly replicates wood, is a beautiful, cost-effective substitute for hardwood floors.
Long-lasting: The laminate's highly durable protective covering makes it possible to shield the surface from fading, scuffs, scratches, and stains.
Easy to clean: Laminate flooring is simple to clean and maintain, thanks to its hard-sealed surface and stain-resistance overlay. They only require a vacuum and a slightly moist mop.
Simple installation: Laminate flooring offers a modern, user-friendly locking system that makes installation simple and quick. You have some options in selecting the installation technique that best suits you.
Time-saving: No need to worry about the hassle of adhesives. Many people can complete the floating installation in a single session, and floors can be used straight afterwards. As a result of its rapid installation, it is both a time and cost-effective solution.
Excellent surface stability: Since laminate flooring is water resistant, it experiences little swelling. Therefore, it functions well in kitchens. Planks are very closely joined because the closer-fitting joints provide excellent surface stability.
Scratch and Impact Resistant: Laminate flooring is scratch and impact resistant, which is a brilliant option for homes with pets and children.
Durable: Laminate flooring is more resistant dents than, due to the high density fiberboard.hardwood flooring.
Heat resistant: Laminate floor is a great thermal conductor, hence it performs well in extreme heat conditions as well.



---
Laminate Flooring: Weaknesses
Replicative appearance: Laminate flooring does not provide the sale level of warm and comfort as hardwood flooring and wear layer may give it a a false or plastic-like appearance.
Shorter Lifespan: Laminate flooring needs to be replaced more frequently since it cannot be refinished likehardwood flooring.
Water damage prone: Laminate flooring has a layer of the composite wood chip under the resin-coated top layer. You must guard against possible water damage to your laminate flooring. Spills should be cleaned up right away. In order to keep water from entering the surface.

---
Things to Look Out for When Buying Laminate Flooring
Here are a few factors to take into account when purchasing laminate flooring:
Board Dimensions
The laminate seems more natural the thicker it gets. It should be at least 8mm thick. An excellent, high-quality floor will range in thickness from 8 to 12 mm. A paper-thin floor is absolutely not what you want because it will quickly wear out and be much harsher on your feet.
Room Environment
Would you like your space to look larger? If so, use laminate with broad planks or in light colors to brighten the room and give it the impression of being larger. On the other hand, bright and rich patterns will make the space cozier.
Foot Traffic
If you are looking forward to installing laminate flooring in your office with high-traffic areas, you may consider a dark or stone texture floor. Also, keep in mind that in homes pet hair shows up against dark floors, but dark laminates will show less dust. Both of these difficulties would be nicely balanced by a beautiful wood laminate.
Warranty
Your flooring should be durable enough to withstand anything life throws at it. You should pick a laminate covered by a warranty just in case it doesn't. Most high-quality ones include a 30-year warranty covering flaws like peeling, staining, fading, and other things.



---
How to Maintain Laminate Flooring
Maintaining a clean floor is necessary, whether it's in your home or office. Laminate floors are relatively easy to clean.

Regularly vacuum your laminate floors or sweep with a microfiber broom.


If a vinyl floor needs to be washed a damp mop is all that is needed, a wet mop may cause moisture to get between and under the boards, causing water damage.


Refrain from cleaning your laminate flooring with strong chemicals. Your laminate flooring is likely to suffer finish damage as a result, which increases its susceptibility to scuffs and stains.
When you need to clean up spills or stains on your laminate flooring, use wet cloths or paper towels rather than dry cleaning chemicals.