You'll agree that installing new flooring is a significant investment. So, choosing the right type of flooring for your home becomes important, right? If you're looking for a high-quality, versatile, and durable option, luxury vinyl flooring may be a perfect choice. Luxury vinyl flooring is available in various variety of styles and colors, making it easy to find the perfect fit for your home.

Moreover, luxury vinyl flooring is water-resistant and easy to clean, making it ideal for families with kids or pets. If you're contemplating installing luxury vinyl flooring in your home, read on for a comprehensive guide to this popular type of flooring.

---
What is Luxury Vinyl Flooring?
Homeowners who wish to have a floor that's easy to care for and lasts for many years should choose luxury vinyl floors. Like other types of vinyl flooring, luxury vinyl floors are made up of layers. But what makes this product different is that one of the layers is a rigid core. This type of flooring is also sometimes called engineered vinyl flooring or rigid core vinyl flooring.

Furthermore, they're sometimes known as Luxury Vinyl Tile or Plank (LVT/LVP). This type of vinyl flooring is composed of multiple layers that assist in the design, durability, and maintenance of this fantastic floor covering option. The wear layer is what gives the luxury vinyl plank or tile its scratch and stain resistance. The next layer is the print film that gives the product its realistic look of hardwood, ceramic tile, or stone. Some LVT floors may have a registered embossed surface for a more realistic visual. After that is a clear film layer for protection, followed by the core made from either stone plastic composite (SPC) or wood plastic composite (WPC).

Another distinction of luxury vinyl flooring is its durability and ability to withstand heavy traffic and wear. The thicker the floor, the more durable it will be. The thickness of luxury vinyl floors is at least 12 mil, with some as thick as 28 mil, which we commonly see in commercial buildings. Moreover, LVPs are water-resistant and easy to clean, making them ideal for families with kids or pets.



---
Luxury Vinyl vs Standard Vinyl
Standard vinyl is what you would find in most homes as inexpensive flooring and is sometimes mistaken for luxury vinyl. But that's not the case. There are various differences in both, which may not be obvious at first glance. The table below brings light to some of the key differences between luxury vinyl and standard vinyl.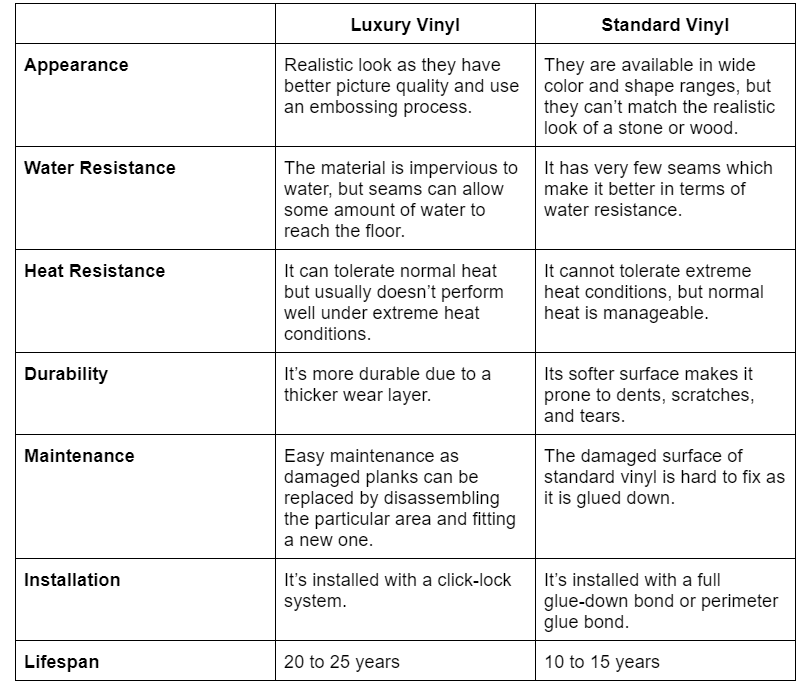 ­
As per the table, there are several key differences between luxury vinyl and standard vinyl. Luxury vinyl is more durable, thicker, and has a realistic look. On the other hand, standard vinyl wins in terms of water resistance, and otherwise, it's less durable, thinner, and not realistic. So, if you're considering installing new flooring in your home, luxury vinyl products may be a better option.



---
Benefits of Luxury Vinyl Flooring
While understanding what luxury vinyl flooring is, you'll notice one point that'll stand above all, which is its advantages. The advantages of luxury vinyl flooring are what have made it so popular in recent years. It's a versatile product that comes in many different styles, colors, and patterns. And it can be used in any room of the house. Here are some of the main benefits of luxury vinyl flooring.



Versatile
Luxury vinyl flooring is one of the most versatile flooring options on the market. It can be used in any room in the house, including kitchens, bathrooms, laundry rooms, and basements. It's also a supreme option for high-traffic areas and commercial spaces. Not only can luxury vinyl floors be used with underfloor heating, but they can also be used in cold areas as they don't contract.
High Durability
LVT flooring is not only durable but also hardwearing and long-lasting. The built-in scratch and stain guard protects the floors from daily wear and tear. Moreover, if you are looking for something even more hardwearing that can withstand heavy footfall, there are some high-thickness LVT that can be used in commercial properties.
Stylish and Realistic
LVT or planks come in various colors, styles, and patterns. You can discover one that looks like wood, stone, or ceramic tile. And the best part is that it's much more affordable than the real thing. Luxury vinyl floors also come in a variety of plank sizes and shapes. This means that you can create a unique look for your home.
Easy to Install and Maintain
They are very easy to install and can be done as a DIY project. The planks simply click together, making installation quick and easy. There is no need for adhesives or nails. Luxury vinyl floors are also very easy to maintain. They only require regular sweeping and mopping with mild detergent.
Affordable
Luxury vinyl plank is a very affordable flooring option. It's much more budget-friendly than hardwood, stone, or ceramic tile. Luxury vinyl floors are also a great way to get the look of a high-end floor without the high price tag.
Water Resistant
Water is no problem when choosing luxury vinyl floors. LVT is completely water resistant, making it the perfect flooring solution for wet areas such as kitchens and bathrooms. It's also a great choice for basements that are susceptible to flooding. However, not all manufacturers provide waterproof warranty, so do check it with the brand you are opting for.




---
What Are the Characteristics of Luxury Vinyl Flooring?
We hope you've comprehended what is luxury vinyl flooring and now it's time to move to its characteristics which make it different from other options.

Appearance
The appearance of a luxury vinyl plank is what makes it so popular. LVP comes in a variety of colors, styles, and patterns. What makes it distinctive is the quality of print it has. The embossing process used for the luxury vinyl plank is what makes it look so realistic. The premium design is printed on a clear film and then covered with a wear layer. This gives the flooring an incredibly realistic look that is hard to tell apart from the real thing.
Water and Heat Resistance
The LVT is 100% water resistant because of its synthetic material. However, the water can seep down the floor because of the seams present between planks and tiles. In terms of heat resistance, LVP can't withstand high temperatures but can perform well under normal conditions. Therefore, they may not be an ideal choice to install in outdoor areas or near large windows.
Durability
In comparison with normal vinyl floors, LVP is more durable and long-lasting. The thicker the wear layer on LVPs, the more durable the flooring will be.
Maintenance
The maintenance is one thing you don't have to worry about. Most of the tiles that have floating, or click-lock mechanism are replaceable in case of damage. Further, the day-to-day maintenance is very easy, which includes sweeping and mopping with a mild detergent.
Installation
Instead of glue, the LVTs have an interlocking system. The planks or tiles have a click and lock mechanism, making the installation process much easier. However, some LVP has the glue-down option available, and their installation is the same as standard sheet vinyl.
Lifespan
The normal lifespan of LVPs or LVTs is around 20 to 25 years. However, this can vary based on the conditions where you'll install them. If you buy it according to usage, like, if you buy 8 mil LVT for a higher footfall area, it might not last as long as the recommended 28 mil LVT. Moreover, this will also vary from manufacturer to manufacturer, so it's always good to check with the manufacturer's warranty.
Cost
Cost is one thing that is relative. The price of luxury vinyl plank or tile largely depends on what you're looking for. The design, quality, brand, and installation all play a role in the final cost.
---
What are the Types of Luxury Vinyl Floors?
If you don't know the types of luxury vinyl, you can't say for sure that you know what luxury vinyl flooring is. So, let's not leave any void in this learning process and learn about the three types of LVTs available in the market.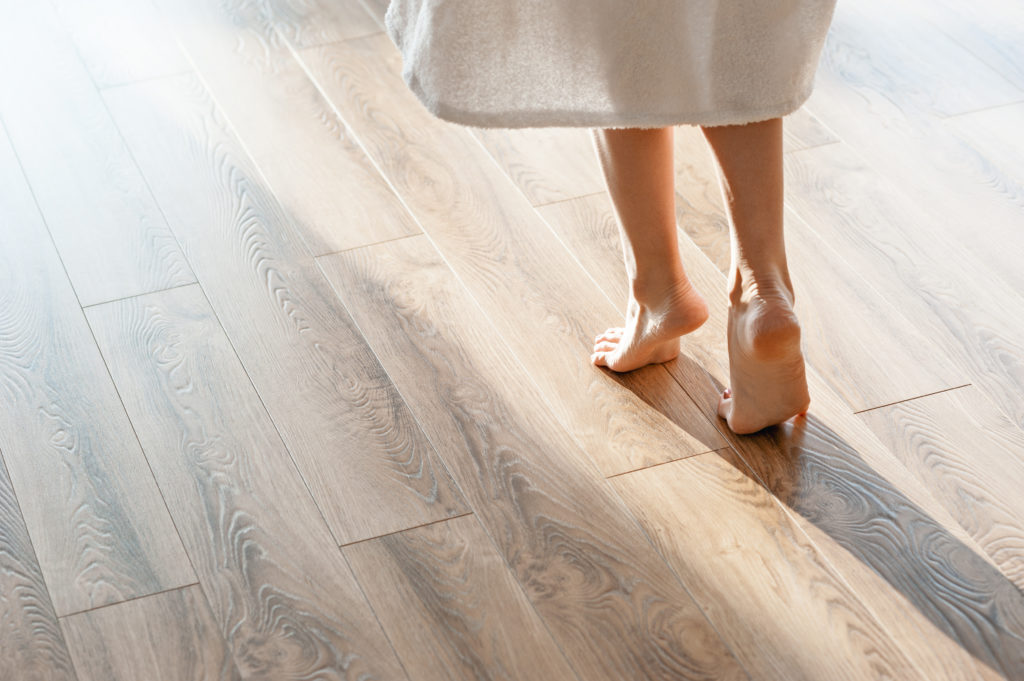 Plank
Luxury vinyl planks are floorings designed to look like hardwood. The planks are manufactured to mimic the appearance of real hardwood floors. LVP is a composite product made up of several components that work together to create long-lasting, high-performance flooring.

For stability, the bottom layer is a backer board composed of PVC for flexibility. Then there's the core layer, which is what gives the planks their strength and stability. The core can be either solid or engineered, depending on the manufacturer. Above the core lies the vinyl layer, which features a pattern and color printed on it, usually mimicking wood, or stone. On top of everything, it has the most important component, the wear layer.

LVP is more flexible than other types of vinyl flooring on the market, and its strength comes from the fact that it's glued down to the subfloor with an adhesive.

Pros
Cheaper than traditional hardwood but provides the same look
High durability. Higher scuff, dent and scratch resistance than other types of flooring
Water resistant
Has a wide variety of options in terms of color and patterns

Cons
The feel does not mimic hardwood and does not have the same warmth underfoot
Susceptible to wide temperature swings and may shrink or expand leading to warping
It can fade in extreme sunshine areas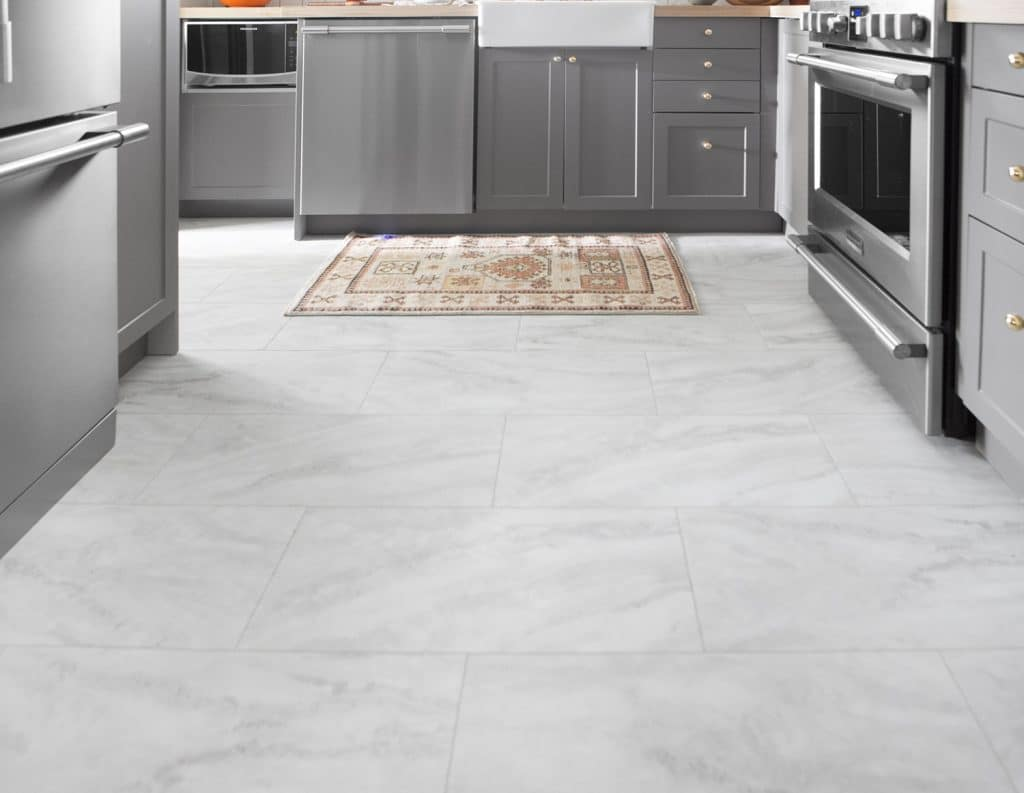 Tile
LVTs are either used to replicate stone or to create an intricate pattern. But whatever the purpose may be, they are among the top choices of homeowners. Like plank, the LVTs have three layers of backing stacked on top of each other and individually rotated to create a stronger locking system. These layers are then fused together to create the base.

An authentic photograph film design is then used to create both a strikingly vibrant and texturized design in each luxury vinyl plank and tile. Moreover, all LVT flooring has a wear layer on the surface to protect the integrity of the flooring design.

Pros
It's extremely durable
It's waterproof
Click and lock system makes installation easy
Very easy to clean
Affordable than real stone flooring
Moisture and mold resistant

Cons
It can fade when installed outside, or when exposed to direct sunlight
It's scratch resistant, but heavy materials can damage the upper layer
If you choose the glue-down option, it can be hard to replace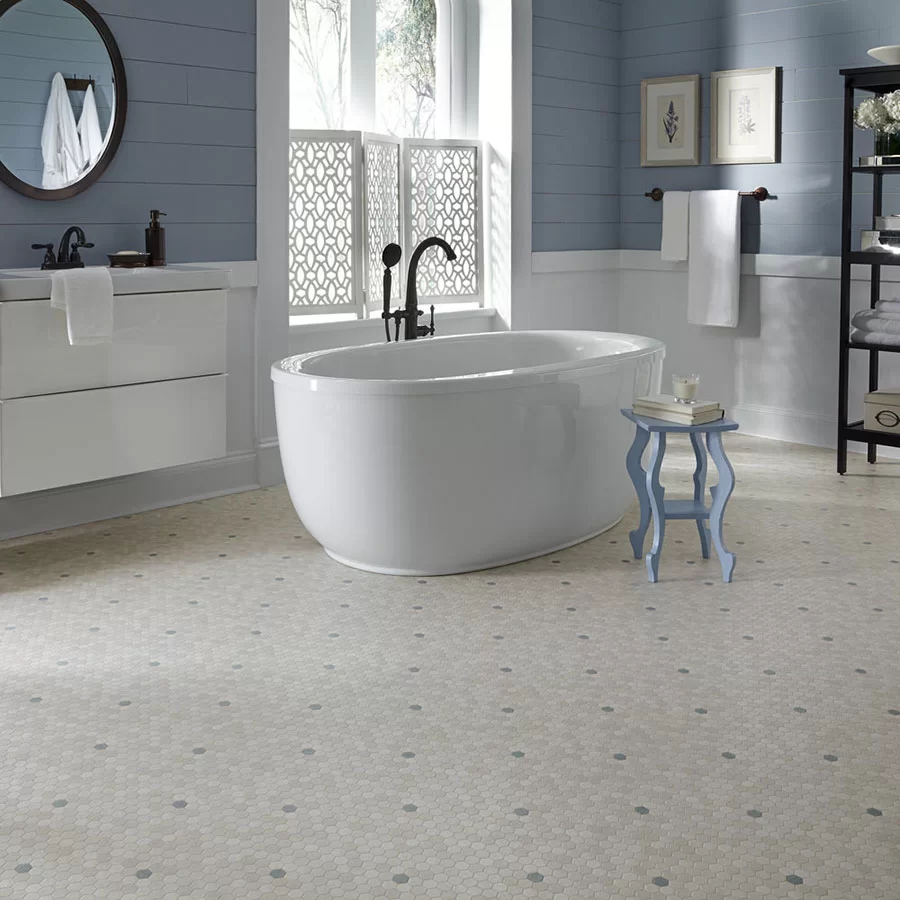 Sheet
You can install luxury vinyl sheeting in any room you want, but it's commonly used in high-moisture areas like the bathroom or kitchen. The sheets come in either 6 feet or 12 feet lengths. That way, there are very few seams when installed. Plus, it can also mimic the look of hardwood, stone, and tile flooring.

Pros
It's softer and comfortable under foot
Water, and scratch-resistant
The installation is easy
Less expensive than tile and plan
Cons
Not easy to replace due to bigger size
Styles are limited when compared to tile and plank
Difficult to repair due to the glue down installation

---